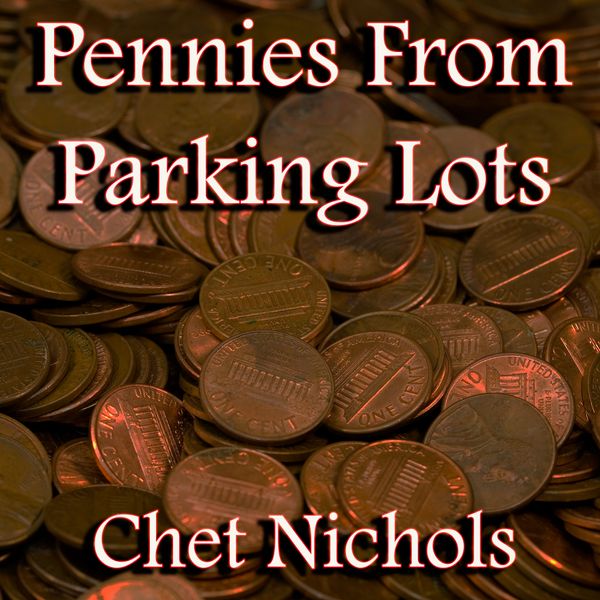 Pennies From Parking Lots
Chet Nichols
A guide to making pennies you find on the ground into "Magic Pennies".
Read more…
"Pennies From Parking Lots"
Lyrics and Music by Chet Nichols
Copyright by Chester Nichols, Jr. / Magic Garage Music (ASCAP) 2015/2023
chetnichols@protonmail.com  *  www.chetnichols.net
MagicGarageMusic@protonmail.com * chet@chetnichols.net
ALL RIGHTS RESERVED WORLDWIDE
VERSE 1
We followed Grandfather down to the river
He said he had a secret that he wanted to share                                
Our eyes grew wide with anticipation                                             
As he made copper coins appear from thin air ... they were...
CHORUS 
Pennies, pennies he found in parking lots
He would pick them up 
And make a wish
And slide them in his shoes
They were magical pennies
Making his dreams come true…                                
VERSE 2
He said, "Close your eyes and go over ever detail
When you make a wish you hope might come true
And picture in your heart who the wish is really good for                          
Or you might wind up with only holes in your shoes"
REPEAT CHORUS 
BRIDGE
My little brother who was always a Doubting Thomas                             
Said, "How do you know you'll really get the wish you need?"                
Grandpa stood up and spread his arms wide                                  
And said, "Children, you are all the proof I need to believe" ... in those...           
REPEAT CHORUS 
And to this day I've got to say
That I'm believing, too, In the magical pennies
Making my dreams come true
:::::::::::::::::::::::::::::::::::::::::::::::::::::::: :::::::::::::::::::::::::::::::::::::::::::::::::::::::::::::::::::::
Copyright ©  ® by Chester Nichols, Jr (ASCAP) & Magic Garage Music: Publisher (ASCAP)
All US and Global Rights are reserved. This song or any portion thereof (lyrics, music, samples, vocals) may not be reproduced in any form or media, distributed, transmitted, downloaded, shared or used in any manner whatsoever without the express written permission of the writer and the publisher. 
For permission requests, write to the publisher at: 
MagicGarageMusic@protonmail.com
Or addressed to: 
"Attention: Permissions Coordinator, (at the address below) 
Chet Nichols/Magic Garage Music, PO Box 2398, Northbrook, IL 60065" 
http://www.chetnichols.net.
More information at: 
http://chetnichols.bandcamp.com
Email: MagicGarageMusic@protonmail.com
Email: ChetNichols@me.com