Laurel Canyon Radio Review
"Beetles Are Coming". A new album from Chet Nichols

 

Chet Nichols

https://www.youtube.com/watch?v=NAerw66kcLM 




I'm so blown away attempting to describe this release, I will let the bandcamp liner notes do it for me: Produced, recorded and mixed by Stephen Barncard Please buy this via bandcamp – it is a true pleasure to listen to….

 

Recorded at Wally Heider's Studio in San Francisco, CA 1970-71. If you haven't heard Chet Nichols, and love great original acoustic music, be prepared to have your socks blown off. He's a wonder of nature that plays and sings these original, complex yet endearing melodies, and sounds like 3 people playing.This state is enabled thanks to the gifts of incredible range and choir-boy quality of the voice, driving rhythms that may include hands, feet, rings, ( sometimes even a trick knee ) and special "open tunings" used to create the song space.I first caught Chet back in KC in 1969, where he was headlining at the Vanguard Coffee House on Main street. I was blown away. An invitation is offered to come to play at KCJC, the radio station (where I was known as 'NightFreak') followed, and the rest is history.
That night at the radio station, I set up the news mic on Chet's guitar (an old RCA 44) and another beat up 44 at my announcer's position, and just let him play..
.. after an hour and a half of a stunning performance I realized we had to work on a project together at some point in the future.
And it happened – we ended up in San Francisco and were able to cut the tracks for this record between 1970 and 1971.
This release is the long-awaited 2015 remix of Chet Nichols' CD, "Beetles Are Coming". It features ALL-NEW HD/HiFi-quality restoration, re-mixed, re-edited and re-mastered tracks from Chet's ground-breaking first album, "Time Loop".
Great care was taken to preserve all that was on the original master tapes:
16track 2inch 3m or Ampex machine ——>
3m tape——>
16 track Studer——>Digital HD 24/96——>
digital mix——>
dithering-resampling to 44/16 in mastering—>
44/16 master file at Bandcamp—>
Bandcamp delivers file format of your choice.
This remixed-remastered version restores the vision we had had for this project all along. It just took a little time. We located some better takes and alternate parts and took away some others. We also fixed some pesky phase and polarity problems with the many microphone experiments, including stereo vocals.
Revisionism? Perhaps, but for the better. For the songs. For the Sound. This record is a special treat.
You can have the best experience if you download the larger Apple Lossless or FLAC files before burning to CD or placing in your library. We hope to offer a 24/96 version at some point in the future.hanks for listening.
stephen barncard
barncard.com
      Nuff said!
In the early '70s, Kansas City was young, high and horny, and everyone went to the Ballroom
JASON HARPER
MAY 21, 2009 4 AM
Mother Earth has left the building.
On a rainy night, the old hippies are being hustled out the door. It was supposed to be a reunion party for the radicals, scenesters and music freaks who, from 1971 to '74, frequented the rotting, rococo, hangarlike second floor of the El Torreon Building at 31st Street and Gillham, back when it was the all-rockin' Cowtown Ballroom.
A growing crowd of 100 or so people, mostly in their 60s, has come out for the second night of festivities surrounding the premiere of the locally produced documentary Cowtown Ballroom ... Sweet Jesus! Most of them haven't set foot in the place in more than 35 years.
The night before, at an advance screening at the Tivoli, many had watched themselves onscreen, talking about the years when rock superstars such as Alice Cooper, Van Morrison and Frank Zappa made the Ballroom the place to be for live music in Kansas City.
Tonight, the men who made the film invited them to return to their toking grounds. Joe Heyen and Anthony Ladesich spent the last two years interviewing hundreds of people and pulling together mountains of decades-old film reels, posters and photos to piece together their 85-minute love letter to the Kansas City of the early '70s.
But now, about an hour into the party, a representative from the Haddad Restaurant Group, which owns the building, arrives to shut it down. The cross-looking woman accuses Heyen of not having insurance or a permit or something. There's no liquor, so people have been milling around drinking soda while Chet Nichols strums his guitar, amplified by a small PA. Off in the corner, a flower child in a rain poncho twirls and pirouettes unselfconsciously through his entire low-key performance.
The party moves to the Tower Tavern, which in some ways is an improvement because there's a bar. Still, people are reeling a bit from having been kicked out of their old home away from home.
"There are a bunch of geriatric hippies celebrating something wonderful in their lives that happened in the '70s. That's threatening!" jokes Dan "Mort" Moriarty.
Moriarty was among the four founders of Good Karma Productions, which operated the Ballroom. "We wanted this San Francisco feel," Moriarty told me the night before. "What happened, in a totally miraculous way, was it had a Kansas City feel."
At the beginning of the film, between sound bites from Black Oak Arkansas singer Jim Dandy(who looks like he has lived about eight and a half of his rock lives and who says the Ballroom "was a social experiment in terror"), Michael Brewer of Brewer and Shipley says the biggest part of the '60s happened in the '70s.
That was certainly true of the Midwest. People of my generation won't recognize the Kansas City in the film.
For years, Volker Park (now known as Theis Park) was a mini-Woodstock every Sunday, entire hippie families filling the grounds from the Nelson-Atkins to Brush Creek for drug-addled, music-enhanced revelry. In Westport, head shops such as Tiny Tim's Magic Circus were everywhere.
Mary Ann Wynkoop, head of the American studies program at UMKC, gives the academic perspective on free love; singer-songwriter and '70s survivor Howard Iceberg sums up the layman's side: "It was a time when people enjoyed each other."
Why the fuck hadn't I heard of Fanny? The California four-piece (no pun intended) wasn't only the first all-female rock band signed to a major label but was also multicultural, with two members originally from the Philippines. Fanny played the Ballroom twice, in '73 and '74, and Cowtownfeatures footage of the slender, longhaired "original godmothers of chick rock" living the teenage boy's rock-and-roll dream.
Handsome British bluesman Rory Gallagher guitar-gasmed for two and a half hours on 3/24/74, and Springfield's Ozark Mountain Daredevils, which got its start at the Ballroom, was the originalKings of Leon.
The film also touches on Kansas City's racial history, tracing the venue's origins as one of the nation's first integrated jazz clubs (est. 1927), through its two midcentury decades as a roller rink, to its zenith as the wild concert hall that hosted white bluegrassers the Nitty Gritty Dirt Band and black bluesmen B.B. King and Danny Cox.
And there was the war. In the film's most moving moment, local Vietnam vet Bill Beaumont talks about being under fire in the jungle. He reproduces, with eerie accuracy, the whistling sounds of mortar shells and describes the false autumn of falling leaves cut by bullets and shrapnel. After coming home, Beaumont threw himself into the Cowtown scene and designed posters for the venue.
Critics may say the film won't seem relevant outside Kansas City. But I think anyone interested in the history of rock and America in the '60s will find lots to love.
Certainly everyone in town should see it during its two-week run at the Tivoli starting May 22. More than anything, it shows — with humor, pride and vigor — a time more recent than the jazz era when KC was truly wild and cool.
REVIEW ABOUT CHET NICHOLS from The Lawrence Journal World
Reno and Paradise is situated Chet Nichols' rural retreat. Gambling is sadly lacking in Reno (Kansas) and the angels are not in great abundance at the Paradise Trailer Court. There's lots of wide open spaces, peace and solitude though. There's also Chet Nichols— poet, musician, singer, songwriter and recording artist. Chet lives on a farm with lots of cows who periodically wreck his garden, and Chet has all manner of vegetables getting on. Lots of stuff he doesn't have to plant. Get the "munchies" and relief is only as far away as the local mulberry tree or honeycomb. This is part of the reason Chet lives in the country. The air is clean, the barn full of hay and the roar of a stray plane can be clearly heard. The good old country comforts are all at hand. His house is comfortable and well worn.
There's an old up- right piano that Chet messes around on. The furniture is mostly Salvation Army chic and a few posters adorn the walls, the most prominent stating "Vern Miller For Attorney General." The farm serves as the base of his operations. It's a place to land after a couple of weeks on the road, which is where Chet can be found with increasing regularity these days. It was in October of '72 that he traveled to UNI. So, the road Is not new to Chet Nichols. Raised in Wilmette, Chet got into music at an early age. By the time he was four he had already composed his first piece on the piano. In those early days his main axes were the cello and piano. He knew a couple of guitar chords, but didn't get his first six string until he was twelve. Down in Tijuana with some relatives he did a bit of old fashioned bargaining and got himself an el cheapo Mexican guitar for $8.50. Down from $35.00, it proved a sound investment.
A lot of practicing and listening to Chuck Berry records led him into a Chicago based band known as the Chosen Few. This was around the time the Stones were invading America and the Chosen Few were obviously influenced. They'd do lots of rock 'n roll like "Johnny B. Goode" and "Great Balls of Fire," plus a few of Chet Nichols' originals. They played together for four years and were a rock band in all respects, namely they went in hock for their equipment. "We'd taken all our money and bought equipment. So we'd play all these gigs and nobody would get any bread.". By 1966 the Chosen Few had managed to become one of the big bands in Chicago, right up there with the Shadows of Night and the Delvettes. Then the band broke up. Members went off to school and the U.S. Army took its toll. Chet got himself into folk music. He pawned all his electric equipment and got himself the Gibson that he still uses today.
For a while he had this gig with two folk-sies in an ice cream parlor. It was around this time that Chet decided he didn't care much for singing "Blowing in the Wind." "I didn't want to perform sets containing other people's songs. I'd go to a club and watch someone do someone else's material and I couldn't get off. And I knew a lot of other people that couldn't get off. And I was sort of aiming myself at getting other people off. Cause that's what good music is all about." So Chet went solo doing his own material and hit the road with time spent in Oklahoma City and on the coast.
Eventually he drifted into Lawrence and the University of Kansas. He spent two years at KU and came within a few hours of graduating. He dropped into music full time playing at places like the Pawnshop in Lawrence and the Vanguard in Kansas City. It was during his Vanguard stint that Good Karma Sutra Records entered his life. Good Karma owned the Vanguard and managed Brewer and Shipley. Soon Chet Nichols was added to the roster and the association has proved mutually beneficial.
His first album, "Time Loop," has been released already. How it came to be recorded is quite a story and getting the album placed took a long time. But then a strange thing happened sometime in September of '70. Chet and his manager, Gary Peterson, were playing with a ouija board and they asked it about the record. The answer came out something like "Budda in October." Needless to say that response blew their minds. And true to its word in October, 1971, the word came from the Budda Group Records and the album was set to roil.
People are behind Chet and really dig his music even if one overly enthusiastic supporter told him, "You could be the next James Taylor." Chet muttered something about,"That's like saying I'm a 1954 Buick. I aim to be a unique artist unlike any other." James Taylor nor car is Chet Nichols. He puts a lot into each song he sings. Unlike Sweet Baby James his songs do not sound the same. They are not countless variations of "Fire and Rain." There's plenty of variety in "Time Loop." From slow, folky ballads to rockers, it's ail there. And as Chet says, " 'Time Loop' is a good solid statement. It's fun. It's funky. It's got variety. It doesn't stick in one place." This is also a pretty accurate description of Chet Nichols.
ARTICLE
Film: Cowtown Ballroom...Sweet Jesus!
BY EASY ED
SEPTEMBER 15, 2009
This past weekend found me working at the Temecula Valley Film and Music Festival with my oldest kid. When you live in a small town where the horses and cows graze next to the subdivisions left empty by greed and failed economic policies, and where culture is defined in the space between Costco and the multiplex sitting across the mall parking lot...anyway, you get the idea that this is something we look forward to every year because sometimes its not so easy to fight the traffic and pay the emotional toll to drive the ninety-odd miles to Hollywood. And so the film people come to us.
If you were born sometime prior to 1956 or so, you probably know what most folks don't. Lots of what we think or remember that happened in the Sixties really took place in that ten year period after the Summer of Love and before Saturday Night Fever. While we think of the Seventies as happy faces and cocaine, velvet ropes and disco...it was really a special time where music was experienced and enjoyed outside of a strict business-first paradigm, and where the notes, beats and lyrics served as a moving aural wall against the political and cultural-social shifts that were occurring at lightning speed. Cowtown Ballroom...Sweet Jesus! is billed as a documentary by Joe Heyen and Anthony Ladesich about the legendary concert venue in Kansas City, Missouri that opened in the summer of 1971, and over the next thirty-eight months it established an incredible musical heritage. That's more or less the official description you'll find on the website and in the festival program but it doesn't come close to being accurate so here's my attempt: Cowtown Ballroom...Sweet Jesus! is probably one of the finest oral histories of my generation that has ever been produced. The stories told here by the people who owned, managed, worked, performed, experienced and patronized the Ballroom are our stories. The visual and audio components are a bonus to the words they speak and the memories they share which are less about the venue and more about the life and times and the coming of age of the post-WW2 generation.
The Cowtown Ballroom was one of many music venues that sprang up around the country in the wake of the Avalon Ballroom, Family Dog concerts, the Trips Festival and Fillmore in San Francisco. Where I grew up in Philadelphia, it was the Trauma and Electric Factory. In your hometown it was probably something similar with just a different name. When the bands came to town it wasn't a calculated pre-planned business transaction to secure a ticket and buy a t-shirt...it was a gathering of the tribes to experience the unplanned, unexpected and uncharted. As someone who ambled occasionally both in front of and behind the stage, sometimes the musicians were just as surprised at what occurred each night as the audience was. While most outside Kansas City won't necessarily know many of the folks in the movie, you're apt to recall or know the musicians who are interviewed. John McEun, Jeff Hanna and Jimmy Fadden from the Nitty Gritty Dirt Band, Chet Nichols, Brewer and Shipley, Jim Dandy of Black Oak Arkansas, B.B. King, Charlie Daniels, the guy from Foghat (whose name I just forgot), Steve Miller, the Ozark Mountain Daredevils and a few more that escape me. If you're like me and wake up some days feeling a little old, trust me that watching some of these interviews will make you feel that your sixties survival outcome may have been better than most. As I always note when I write something that some might look upon as a review, I'm not a very good reviewer. I don't follow the format, I forget stuff and couldn't get a job as a writer if there were still ones to get. But you can trust my instincts that if you're of a certain age, enjoy tripping back to a simpler time in popular culture, come from Kansas City or nearby, or you're a musicologist in search of the lost chord...track this one down. By the way, when the lights came on after the screening I turned to my fifteen year old kid and said "You just saw my life...you just heard my story". Thanks to Joe and Anthony and all the other folks who took the time and effort to contribute to this. And since this isn't a magazine where I have to worry about space or the lack of it, I thought it might be interesting for you to take a look at the list of who performed at the Cowtown...or at least the best that they were able to recall or recreate. 1971 The Flying Burrito Brothers w White Eyes 7/16 and 7/17 Ewing Street, Chet Nichols, Sound Farm 7/23 and 7/24 Nitty Gritty Dirt Band w Ted Anderson 8/1 and 8/2 It's A Beautiful Day & Sonny Terry and Brownie McGhee 9/26 Leo Kottke w Joy of Cooking w Joyful Noise 10/10 Steve Miller Blues Band w Grits 10/8 Frank Zappa (Flo and Eddie) w Rich Hill (2 Shows) 10/23 Brewer and Shipley w Tide 11/13 Savoy Brown w Pot Liquour w Chicken Shack 11/24 Poco w Jerry Riopelle 12/4 Alice Cooper w P G & E 12/16 two shows Freddie King 12/31 In addition, the following bands played Cowtown in the first year, but we don't have the dates at this time: Wilderness Road Catfish Clyde N'Em & Her If any of you can help out on these dates, it would be greatly appreciated. 1972 Kansas City Philharmonic Jorge Mester cond. w Chet Nichols 1/9 Westport Free Clinic Benefit 1/30 KC Philharmonic w Mike Quatro and the Jam Band 2/13 Poco w John David Souther 2/11 Brewer and Shipley w Danny Cox w White Eyes 2/15 Detroit with Mitch Ryder w Tide 2/18 & 2/19 Five Man Electrical Band w Tide 2/26 Mason Proffit w Morningstar w Commonground 3/12 KC Philharmonic w Ted Anderson 3/19 Badfinger w Ashton, Gardner and Dyke 4/7 Ravi Shankar 4/8 Up Against The Wall Ball w Pilgrimage, Nation w J. C. Storyteller 4/18 Linda Ronstadt (Backup band Glenn Frey, Bernie Leadon, Randy Meisner, Don Henley) w The Raspberries w Danny Cox 4/22 Savoy Brown w Malo w Long John Baldry 4/26 Benefit Westport Free Clinic KC Grits, Nation, Bulbous Creation, and Shock 4/30 Hot Tuna (Jorma Kaukonen, Jack Casady, Papa John Creach, Sam Piazza) w Chet Nichols (2 shows) 5/6 Nitty Gritty Dirt Band w Hope 5/21 The Peter Yarrow Band w Lazarus 5/20 It's A Beautiful Day w Stoneface 6/1 & 6/2 & 6/3 Black Oak Arkansas w White Eyes 6/9 Dan Hicks 9/21 Poco w Chet Nichols w Danny Cox w Chet Nichols 9/29 Benefit for Westport Free Health Clinic KC Grits, Morningstar, Chessman Square 10/8 Steve Miller w Wishbone Ash 10/31 Robin Trower w White Eyes 11/10 Hot Tuna w Ozark Mt. Daredevils 11/22 Jorge Mester and KC Philharmonic w Danny Cox 11/26 Seals and Croft w Lawrence and Roselle 12/1 Frank Zappa (Petit Wazoo) w Steely Dan Two Shows 12/2 Black Oak Arkansas w Tranquility 12/15 Brewer and Shipley w Ozark Mt. Daredevils w Chet Nichols w Ted Anderson w KC Grits 12/31 1973 The Byrds w Flash 1/21 Nitty Gritty Dirt Band w Danny Cox w Steve Martin 2/2 & 2/3 Ozark Mountain Daredevils 2/8 Logins and Messina w Leo Kottke w Casey Kelly (2 Shows) 2/10 B. B. King w Chet Nichols w KC Grits (2 shows) 2/19 Brewer and Shipley w Louden Wainwright III w Ozark Mountain Daredevils 3/9 and 3/10 Paul Butterfield w Foghat w Ted Anderson w Mark Almond 3/15 B. B. King w Malo 3/19 Dr. Hook and the Medicine Show w Hookfat w Tide 3/31 It's A Beautiful Day w Bloodrock w Sylvester and the Hot Band 4/7 Wishbone Ash w Finnegan and Wood w Vinegar Joe 4/13 King Crimson w Gentle Giant w Charles Lloyd 4/22 Fanny w Sanctuary w Backwods Memory 4/27 Poco w John David Souther 5/11 Canned Heat w Hookfoot 5/13 Commander Cody w Earl Scruggs w Chet Nichols, 5/26 Nitty Gritty Dirt Band w Steve Martin 6/16 & 6/17 Charlie Daniels w Garland Jeffries w Hot Ice 7/3 Dan Hicks &the Hot Licks w Billy Spears Band 9/21 John Mayall w the Ozark Mountain Daredevils 9/29 Arlo Guthrie 10/21 Mike Quatro Jam Band w Bryan Bowers 10/31 Mott The Hoople w Kinky Friedman & His Texas Jewboys 11/2 Robin Trower 11/10 Ozark Mt. Daredevils w Danny Cox 11/16 Foghat w John Martyn 12/5 Jesse Colin Young w Leo Kottke w Chet Nichols, 12/9 Blue Oyster Cult w Charlie Daniels 12/28 Sugarloaf w Pilgrimage w Stone Wall w One Thing At A Time 12/31 1974 Climax Blues Band w Speakeasy 1/9 Van Morrison*& Caledonia Soul Orchestra 1/17 *Crazy Little Thing, Ballerina, Friday's Child, It's All Over Now Baby Blue, Don't Look Back, These Dreams of You, Heathrow Shuffle, Into the Mystic, Ain't Nothing You Can Do, I've Been Working, Take Your Hand Out Of My Pocket, Warm Love, Mystic Eyes, Brown Eyed Girl, Domino, Gloria, Cyprus Avenue, Caravan Nitty Gritty Dirt Band w Steve Martin w Chet Nichols, 2/2 & 2/3 Commander Cody and His Lost Planet Airmen w Ozark Mt. Daredevils 2/8 The Strawbs 2/23 Bachman-Turner Overdrive w Pilgrimage w NRBQ 2/27 Nitty Gritty Dirt Band w Steve Martin 3/1 Harry Chapin 3/11 Redbone w Pilgrimage 3/16 Rory Gallagher w Tide 3/24 Bill Quateman w Hoyt Axton 4/6 Fanny 4/11 Captain Beefheart w Kansas 4/22 Firesign Theater 4/25 The Electric Light Orchestra w Suzi Quatro Band w Chet Nichols, 4/26 Climax Blues Band w Black Sheep 5/10 Jesse Colin Young w Royal Scanlon 5/29 Golden Earring 6/13 Nitty Gritty Dirt Band w Brewer and Shipley w Larry Knight and Friends (Steve Baker, Steve Starr, Gary Signor) w Country Heir 9/16
Golden greats: 50 years of Kansas City Music
FEBRUARY 24, 2018 BY RICK 3 COMMENTS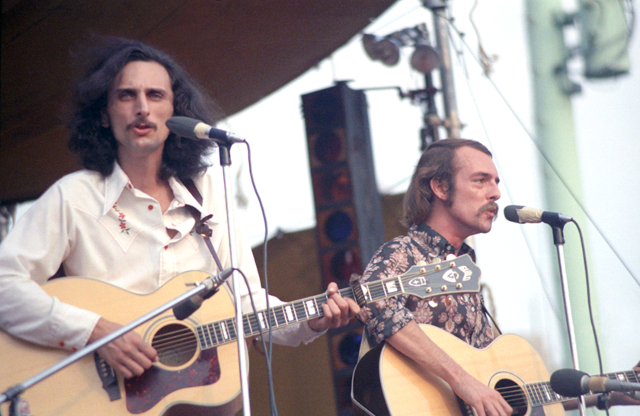 Mike Brewer and Tom Shipley arguably represent the high point of Kansas City rock 'n' roll. True, they were and are folkies at heart. But Brewer & Shipley made major-label records with backing from the top rock musicians of the era. They played every venue in town, from the Vanguard coffee house to Cowtown Ballroom to Arrowhead Stadium (opening for Elton John). They helped foster the scene in other ways. Above all, their Top 10 hit from 1971, "One Toke Over the Line," puts them at the top of the heap.
The only question is, are they from Kansas City? Well, they were at the height of their fame. Brewer was originally from Oklahoma City and Shipley from Cleveland. They met on the folk circuit and went out to Los Angeles to hang with the stars of the burgeoning country-rock movement and recorded "Down in L.A." for A&M Records in 1968.
In a recent interview, Brewer noted that Leon Russell and other members of the so-called Wrecking Crew studio mafia played on the LP, "only we were so naive we didn't realize who the Wrecking Crew was."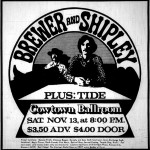 Brewer said they were on the road when they got a call from Stan Plesser, Dan Moriarty and Gary Peterson, who'd been running the Vanguard and wanted to expand beyond it with a band who had a record out. So B&S relocated to KC and formed Good Karma Productions with the aforementioned, plus fellow folkie Danny Cox in a house catty-corner from the Vanguard. As Brewer explains it, it was a loose aggregation, and he, Shipley (incl. wife and child) and Cox lived there at first.
"We didn't have contracts," Brewer said. "That's what we were trying to get away from."
B&S managed to get away from A&M and sign with Neil Bogart's Kama Sutra record label. Brewer said Bogart wanted to get away from the bubblegum music with which he made his bones, and B&S were the sort of album artist he was looking for. They recorded their classic LPs "Weeds" (1969) and "Tarkio" (1970) while living in Kansas City (five secluded acres in Raytown, actually) and traveling to San Francisco to record at the fabled Wally Heider Studios.
Nick Gravenites, who had played the Vanguard as a folk-blues act, served as producer and enlisted the town's top talent to play. Brewer notes it was unique combination of Chicago blues cats (Mike Bloomfield, Mark Naftalin, Gravenites), folkies (them) and rockers (Garcia and his solo bandmates John Kahn and Bill Vitt, Nicky Hopkins, et al).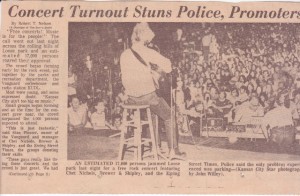 Clip from KC Star July 8, 1970.

Brewer said "Rise Up, Easy Rider" from "Weeds" was inspired by the movie that came out the same year. "Tarkio Road" was inspired by their travels throughout the region, including Tarkio, Mo., where there was a small college.
"We were living the 'Easy Rider' thing," he said. "It was dangerous in the South. We glowed in the dark with our long hair and Nehru shirts and bell bottoms. We were harassed; turned away from hotels because of the way we looked. Trying to find a place to eat without people wanting to beat us up."
By the time the Vanguard closed and Cowtown Ballroom opened, B&S were a big local deal. Artists like Chet Nichols and Ted ("Seems Like a Long Time") Anderson and the bands Ozark Mountain Daredevils and Ewing Street Times were attracted to the scene.
A free concert they threw at Loose Park in July 1970 with Brewer and Shipley headlining drew an estimated 17,000 and became a sort of mini-Woodstock, completely shutting down the surrounding neighborhood.
B&S made two more records for Kama Sutra ("Shake Off the Demon" in 1971 and "Rural Space" in 1972) and two for Capitol ("ST11261" in 1974 and "Welcome to Riddle Bridge" in 1975) before breaking up for roughly 20 years. Both moved to separate spots in southern Missouri.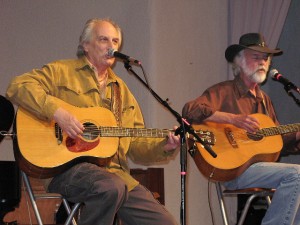 Since then, they've reunited for numerous performances and self-released two LPs ("Shanghai," 1993, and "Heartland," 1997).
A St. Louis documentarian is working on a film about B&S, and they have a 50th anniversary concert coming up March 9 at the Uptown Theatre. The Nace Brothers and Bob Walkenhorst and Jeff Porter from the Rainmakers open.
Performance & Recording Bio

If by ANY chance you have any old posters that feature Chet or interviews,
please let us know.....

Chet has an international following and has toured extensively and
performed at coffee houses, listening clubs, large concert venues,
major concert tours and college concert tours across the USA and Canada,
as a featured performing artist and as an "opening act" for artists and bands
including......

B.B. King
Jethro Tull
John Denver
The Jefferson Airplane
Linda Ronstadt
The Nitty Gritty Dirt Band
Jimmy Messina
Timothy B. Schmidt
Rusty Young
Papa John Creach
George Carlin
Steve Martin
POCO
Hot Tuna
Dan Hicks & The Hotlicks
The Ozark Mountain Daredevils
It's A Beautiful Day
Pacific Gas & Electric
Jimmie Spheeris
Commander Cody & His Lost Planet Airmen
Mary Travers
The Charlie Daniels Band
Country Joe McDonald
The Grassroots
Mason Proffit
The Persuasions
Blue Oyster Cult
The Grateful Dead
Big Brother & The Holding Company
Leonard Nimoy
James Taylor
Bollo Sette
Southern Comfort
John Lee Hooker
The Chad Mitchell Trio
Roger McGuinn
Ian & Sylvia
Humble Pie
Modern Folk Quartet
Richard Pryor
KC Grits
Ewing Street Times
Danny Cox
Biff Rose
The Guess Who
Steve Goodman
The Mary Clayton Band
Billy Spears
Brewer & Shipley
Ted Anderson
The Kansas City Philharmonic ... and many more.

Chet has worked in recording studios and recorded with .....

Bill Bradley (Madonna)
Stephen Barncard (David Crosby)
Nicky Hopkins (The Rolling Stones)
Nick Gravenities (Big Brother)
Laura Allan (Laura Allan)
Dave Garabaldi (Tower of Power)
Zakir Hussain (Ravi Shankar)
John Kahn (Jerry Garcia)
Spencer Dryden (The Jefferson Airplane)
Pete Sears (The Jefferson Starship, Hot Tuna)
Henry Lewie (Joni Mitchell)
Fuzzy John Oxendine (Sons of Champlain)
Buddy Cage (New Riders Of The Purple Sage)
The New Riders Of The Purple Sage
Jack Schroer (Van Morrison)
Brewer & Shipley ("Live" album)
Don Preston (Wings)
Richard Marx (Dick Marx & Associates)
Sal Marquez (The "New" Tonight Show Band)
RJ Fox (Sherry Fox)
Steve Sperry (The Steve Miller Band) ..... and many others.

Please feel free to hang-out and listen to any of Chet's album and to contact Chet.
Or you can add your info to his mailing list or send any comments or questions his way.

PLEASE NOTE: This is a current and evolving site, as well as being a fun and
informative "historical" site about an influential, independent, American composer,
musician and singer-songwriter, Chet Nichols.

So, we are always looking for and seeking any and all old posters or photos
from Chet's shows.

If you have any, please let us know. We would be happy to provide you with
a nice collection of Chet's music of your choice in exchange for any reviews,
photos or posters you can provide.

Contact Us: MagicGarageMusic@gmail.com

Website Designed and Produced by Chet Nichols for
Magic Garage Productions, Magic Garage Music (ASCAP) 
and Magic Garage Records.   All Rights Reserved.